Original Equipment Manufacturers – Level Up Your Products' Field Capabilities with Dragon Jacket OEM Insulation Solutions
Custom Insulation Solutions for Moving Parts, Complex Shapes and Harsh Operational Conditions
OEM developers create products that solve problems, enhance efficiency, and facilitate processes beyond what can be accomplished with standard machinery. But the moving parts and unique designs that make OEM parts so capable are also notoriously difficult to protect against the elements.
IN CHALLENGING OPERATIONAL ENVIRONMENTS, TYPICAL INSULATION SOLUTIONS JUST DON'T WORK. DRAGON JACKET IS ANYTHING BUT TYPICAL.
Dragon Jacket is the only insulation product on the market that has been engineered to insulate moving parts without falling apart and our insulation doesn't require replacement after removal. Plus, Dragon Jacket is tough enough to stand up to the harshest operational and environmental conditions year after year.
Featured Projects
100% WATERPROOF
Oil and Chemical Resistant
MITIGATES CUI
No Corrosion Under Insulation
THERMAL STABILITY
Energy, Process & Cost Efficiency
FAST & EASY INSTALLATION
Using Standard Tools & Personnel
DURABLE & REUSABLE
100% Encapsulated & Impenetrable
Dragon Jacket Protects OEM Products with Customized Solutions
At Dragon Jacket, we're committed to helping OEMs elevate their products with insulation solutions that are durable, reliable, and designed to provide years of protection.
Dragon Jacket provides customized solutions using 3D CAD software, client-provided models and field testing.
Dragon Jacket insulates atypical components, irregular shapes, moving parts, and difficult orientations.
Dragon Jacket Insulation provides long-term protection in harsh environments and extreme temperatures while withstanding operational conditions that require regular removal and reinstallation.
FIELD-TESTED CUSTOM OEM INSULATION SOLUTION
Oil & Gas Wellhead Kits Stand Up to Frequent Removal and Reinstallation in Harsh North Dakota Winters
Dragon Jacket designs and produces custom insulation parts for wellhead and casing isolation valves. The insulation is durable enough to withstand freezing temperatures, harsh winds, and regular removal and reinstallation by inspection personnel.
DOWNLOAD THE FACT SHEET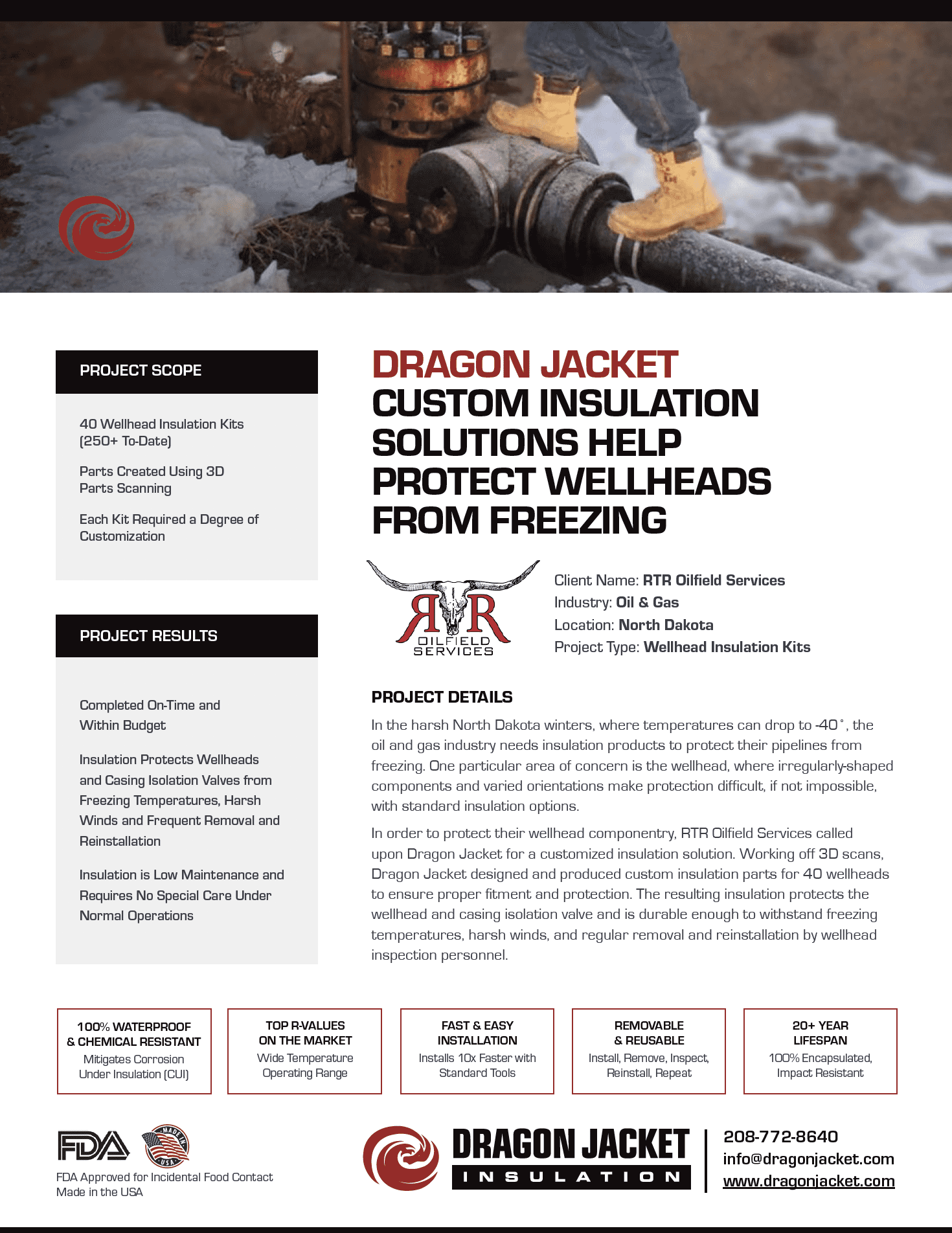 FIELD-TESTED CUSTOM OEM INSULATION SOLUTION
Dynamic Loading Arm Insulation Protects Complex Operations in Freezing Conditions
Dragon Jacket provides a complete insulation solution for loading arms. Due to the loading arms' complex design and moving parts, the insulation had to be fully customizable, flexible enough to allow for movement, and durable enough to withstand harsh operational conditions.
DOWNLOAD THE FACT SHEET
FIELD-TESTED CUSTOM OEM INSULATION SOLUTION
Custom Tank Pads Provide Years of Protection, While Mitigating the Threat of CUI
For tank manufacturers, insulating the tank base without encouraging CUI is a game-changer. Dragon Jacket's insulation does exactly that, providing a protective solution with a competitive R-value that won't contribute to pooling water or delamination of the tank floor.
DOWNLOAD THE FACT SHEET
TIME IS MONEY – THAT'S WHY WHEN WE SAY EASY TO INSTALL, WE MEAN IT!
Dragon Jacket products install an average of 16-times faster than our competitors. Plus, our insulation is easy to remove and re-installs in minutes using standard tools and onsite personnel. This reduces inspection times and get's equipment up and running faster.
98% of insulation failures are moisture related. Dragon Jacket pipe and tank insulation keeps water out, even if the insulation material is cut and the foam core is exposed.
CHOOSE DRAGON JACKET INSULATION TO:
Mitigate energy loss, lower energy costs, and reduce greenhouse gas emissions.
Stabilize process controls against temperature fluctuations, which can contribute to degradation and expensive quality control issues.
Minimize safety hazards by reducing exposure to hot/cold surfaces.
STATIC R-VALUE
12.53 Per 2 Inches
STATIC K-FACTOR
0.174 BTU-IN/HR-FT2-F
OPERATING TEMPERATURE RANGE
-60˚F to +350˚F
DEPENDING ON COATING
Dragon Jacket products are durable, reusable and long-lasting. Impact and weather-resistant, with a 20+ year life expectancy, our patented process combines insulation foam and coating for a 100% waterproof encapsulation that will never fail due to moisture absorption.
Interested in Speaking with a Dragon Jacket Consultant?
Call Us At (208) 772-8640